Once upon a time, a long, long, long time ago, there was a Common Peasant Girl (CPG) who lived in the Land of 1997.
CPG was in love with Prince Ballard, for yes, even far away in the Land of 1997, young (shut up shut up shut up) girls gazed upon Prince Ballard with desire and longing.
In particular, CPG had the hots for Prince Ballard's artwork… botanical pear canvases to be precise. Sadly, CPG did not have the $279 dowry required to be united with the artwork that she longed for.
There were no scanners for computers in the Land of 1997. (OK maybe there were, but CPG did not have one.) CPG knew that she was in charge of her own destiny.
Throwing caution to the wind, she took Prince Ballard's catalog of treasures to her local color-copy-smith. She magically blew up the catalog pictures of the artwork until they were the right size to fit into the Goodwill frames she had on hand for just such an occasion.

CPG cut the copied images to size and used a magical potion called Mod Podge to adhere them to a board. When dry, black paint was brushed around the edges of the image to remove any remaining evidence that her precious pears were once in a staged catalog photo.
(CPG also had no photoshop capabilities in the Land of 1997.)
(She did have big, poofy Monica Lewinsky hair though…)
When the paint was dry, CPG burst into tears. Her artwork looked terrible. She hated it.
She pulled her hair and gnashed her teeth.
She cursed. (Just a little.)
In an act of sheer frustration, she slapped more Mod Podge on top of her poached pears.
(Get it? Poached…? Cuz she was copying…? Never mind.)
And then, for reasons she cannot quite understand (or remember) she pressed a sheet of tissue paper on top of the whole mess.


It looked fantastic! She did the same thing to the other piece. They looked even better when they dried, because they dried clear and shiny!


(Not a good picture as far as glare, but an excellent example of the texture the tissue paper created…)


And thus began a love affair that has lasted 13 glorious years.
And they lived happily ever after.
The end.
EDITED TO ADD: this project is not in violation of any copyrighted material, as it was solely for my own enjoyment in my own home. (I know, I checked with Hubby The Attorney…)
Linking up with:


and
at Just A Girl's Show and Share.
and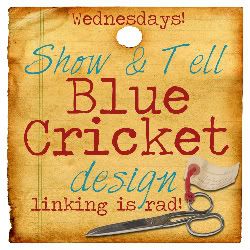 and
Bubbly Nature