I'm pretty happy to tell you that I've been selected to compete in Season 2 of the One Month To Win It craft contest!
There are 12 crafters competing for 4 weeks. Each week, we will get an assignment to create something for a certain theme or using a certain medium. We will then submit it anonymously for readers to vote on. Three crafters will get cut from the competition each week.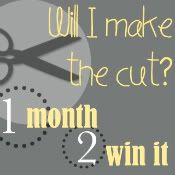 So! Please keep an eye out. I'll let you know when the weekly crafts are put up for reader votes on One Month To Win It.
I'm so excited!
I guess I better get crafting!