Today I'm going to show you a simple trick to update old plates and platters.  While they aren't food safe, they are great for decorating.  You can transform an old plate into a DIY decorative plate for Thanksgiving. Or fall.  Or for whatever.
My finished platter looks like this…
It wasn't always this way.
1. Take an ugly plate or platter with a cool shape.  In this case, a large Williams Sonoma plattter, circa 1997 that I bought at a thrift store for $1.
2. Dig out some 3D scribble (or puff) paint that you have in your craft supplies.  (You know you have some… No?  OK, then you can pick some up at any craft store for a couple of bucks.)  It does not matter what color you choose since you'll be spray painting it anyway.
3. Start squeezing on your design.  Do whatever you like.  I'm no artist, so I prefer random, squiggly designs. (It hides the fact that I'm no artist.)
4. Let the puff paint dry completely, then take it to an area where you can spray paint it.
Spray the entire plate with a plastic primer.  Once the primer has dried, spray the entire plate with the color of your choice.  When dry, spray the whole thing with a high gloss clear coating.  The more coats of the gloss, the more it will look like ceramic.
There are a few more coats of gloss that I would like to add.
I had originally left it white, with the thought of painting the center with chalkboard paint, or possibly cutting some vinyl with our last name, or "welcome" or a bible verse.
The point is, that any ugly old platter can be brought up to date and incorporated into your decor.
I opted to spray paint it a warm metallic gold and use contact paper to cut out the words "give thanks"  When Thanksgiving is over I can easily change the saying.
We should always be giving thanks, November or not.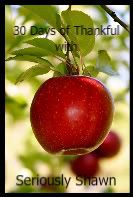 Today, I'm thankful for cooler weather and the chance to be warm and cozy with a fire burning in the fireplace.  And I'm also thankful for four strong boys who can bring in firewood for said fire.