I got a few questions about the pumpkins that I used in yesterday's post about the
fall decor on a window ledge
.  A few readers asked me if they were real.  So I decided to do a quick round up of 10 fun pumpkin ideas.
Two years ago I did a tutorial on how to paint the obviously fake pumpkins to get them looking a bit better.
Once painted, you can do just about anything to them.
You can read the tutorial on how to paint them to get the aged copper effect here
Last year I took these same 4 pumpkins and painted them white and cream.
I think this is recycling at its best. I sprayed a white primer on these to help cover the copper color.  Then, working quickly, slop on heavy layers of acrylic paint in various whites, creams and taupes.  While the paint is still wet, spray a heavy coat of a clear gloss sealer on these.  The paint will run a bit and once it dries, there is a ceramic effect.
I am on a pumpkin roll right now, so more pumpkin posts are coming.
If you missed them, be sure to check out how to make my Edward Scissorhands style Punk-In
(If you're using real pumpkins and gourds be sure to check out this tip  to keep them from getting all gross & moldy.)
These pumpkins also caught my eye around the blogosphere and I am loving them!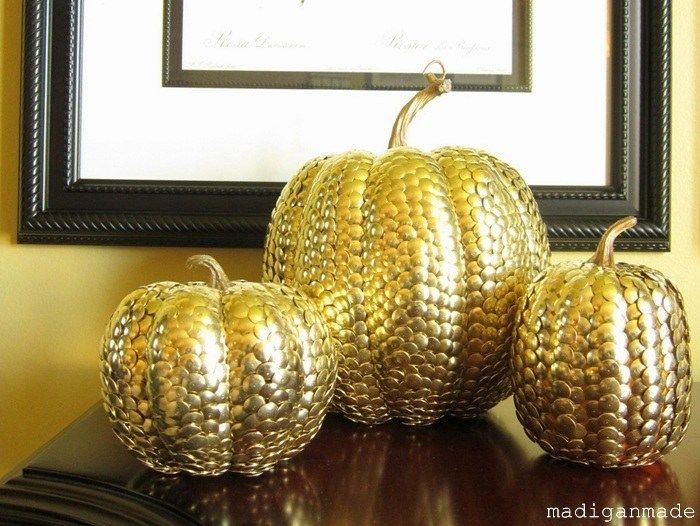 There are so many fab examples out there!  Happy Fall y'all!