"Looks like I picked the wrong week to quit sniffing glue…"
Lloyd Bridges as Steve McCrosky
The second challenge for the One Month To Win It contest is to create something using Mod Podge.
Voting starts tomorrow (Monday 4/11) and will be open until the evening of the 13th. I can't tell you which project is mine… just go over and vote for your favorite one (My hope is that mine will be your fav.) There will be 9 projects, and after this week's vote, they will be cutting 3 contestants.
Mod Podge is great stuff you can use to change the Cataclysmically Ugly…

…into something you might actually want to have in your house.

Or this…

…into this.

This is Amy

She is the brilliant blogger behind Mod Podge Rocks. Go see her for some inspiration. (That's what I did…)
Then tomorrow, please go and vote for your favorite Mod Podge project!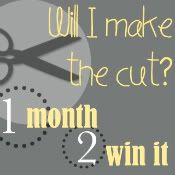 Thanks!