So 3 bloggy friends (and a fourth friend I haven't "met" yet) are starting We Want to Know Wednesdays. They say I can avoid laundry by answering a few questions… Avoid the laundry?! I'm in!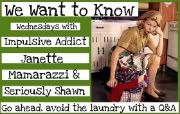 The questions they pose are as follows:
1. Do you make friends easily?
Yes, actually. I don't need to have someone talk to me first. I can strike up a conversation with (and hold my own with) just about anyone. I don't necessarily look very friendly… in fact, I have had lots of friends and acquaintances confess that when they first met me they thought I looked really mean, but I assure you I am as nice as pie.
2. What 3 qualities are a must in a friend?
Qualities in a friend are not necessarily personality traits. Do I enjoy fun, witty people? Of course I do. But in a true friend I expect to find loyalty, honesty and general strength of character. (And if they're also fun and witty, all the better!)
3. What makes you a good friend?
Hmm. I actually texted some of them and asked for one word answers to describe me. I got a couple of loyals and an honest/forthright and a supportive. I also asked Handsome Hubby, (he is my best friend, after all) and he immediately said: "Loyal… (brief pause) …just like my dog."
My friends and my family are the most valuable treasures in my life. I would hope that I treat them in a way that they know that I feel that way about them.
4. Have you ever met a bloggy friend in real life? Yes? Tell us about your meet up. No? Who would you love to meet?
I have a friend who started a blog and encouraged me to start one too, but she doesn't count because I already know her. I have not met up with any bloggy friends in real life… Yet. In a few weeks I am flying to Austin for a long weekend with Shawn, Becca, Impulsive Addict, Jenny Kate and Jen. I can't wait!

5. Who is your best friend? Tell us about them.
I am fortunate enough to be married to my best friend. I've gone into great, sappy detail about how fabulous he is. (And because of the "loyal like my dog" crack, I won't tell you again in this post.)

Handsome Hubby is on the right, and on my left is Scott, who is like the brother I never had. (And sometimes didn't want!) We were all in 6th grade together. Scott's parents and my parents are great friends. In fact, I call his mom My Other Mother. He is Conner's godfather.
This is us at our 25th High School Reunion this past summer.
This is Eva, my best girlfriend.

I've known her since Junior High and I can count on her to always be there for me. She knows me better than anyone else and isn't afraid to remind me of that. She will also tell me when I have spinach on my tooth or toilet paper stuck to me shoe… or when I am screwing things up.
She's like a sister to me. You can read more about some of our adventures under the label Tales To Tell.(Read the Lucy & Ethel Go To Mexico: The Shark Story posts… part 1 part 2 part 3)
***updated to add*** I just got her reply to my text about 1 word to describe me as a friend. True to form, she couldn't use 1 word" Loyal. But that's boring… If it weren't one word, it would be "your go to, bail you out of Tijuana jail friend"!!! More descriptive.
And that right there explains why we shouldn't be allowed to vacation in Mexico by ourselves.
I have a handful of awesome girl friends that are right up there in the friends dept too.


My friend Chris holds a really special place in my heart.

We go on vacations together and she is my person I can always count on to give it to me straight.
I went to school with all but two of the gals in this photo. Old friends (and friends who feel like you've known them forever) are the best!

I love all my girlies. They are blessings.
So my bloggy friends, thanks for asking the questions. I did indeed skip the laundry! Thanks guys.
Go visit and link up if you want to play along.
****** Updated to add:***************

I can't believe I hit "publish" without adding in my Mom!!! Boy did we knock heads when I was a teenager, but she is a best friend to me now. We talk on the phone at least 4 times a week and I love, love, LOVE spending time with her.
This is an awful picture of me (hello, welcome to my nostrils…) but my mom looks so pretty in this one! See that gray streak in the front of her hair? She's had that since her early 20s. I have the same streak. Unfortunately, mine comes in on the top of my head, so I have to color it or I would look like a skunk!
********************************