This is a Sponsored post written by me on behalf of American Frozen Foods Institute and the Frozen Food Roundtable for SocialSpark. All opinions are 100% mine.
If you're a regular reader, you know that we have 4 boys, and that I like to cook for everyone.  We've been big fans of family meals, with all 6 of us gathered around the table… but something weird has been happening.  As the boys have gotten older, they are busier and not around for dinner as much.  (In fact, Devin is out of the house and on the other side of the country now.)  Conner and Mitch have jobs and activities with friends, and our family dinners have become few and far between.
Do you know what I've realized?  I don't really know how to cook a meal for just 2 or 3 of us.  (So I've been slacking and telling people to "fend" when it comes to dinners.  Sad.)   So you know what I've started doing?  Using more frozen foods. Fresh is fantastic, but frozen has been saving my sanity lately.
It's easy to get caught up in a fresh vs frozen discussion, but at the end of the day, there are plenty of benefits of frozen foods.  Freezing is a natural pause that keeps just picked, just baked or just crafted food at the peak of freshness.  Back when I was doing a lot of cooking, I frequently cooked up extra portions and froze them for later.  But since I haven't been doing much scratch cooking, I haven't had the opportunity to freeze meals, so I am loving convenience that comes with frozen foods.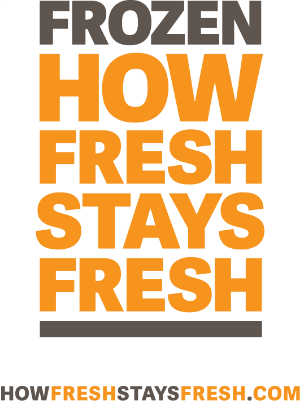 Americans are busy. Our lives are filled with demands and distractions. That's what's great about frozen foods: they fit every family's lifestyle without compromising taste or nutrition. Grant is very much a fan of pepperoni pizza from Celeste and pepperoni Hot Pockets (and I am a fan of the whole grain option for the crust). I've become a fan of the Baja Black Bean Pizza from Morningstar Farms too.
I've even started keeping Jimmy Dean Delights Turkey Sausage, Egg White and Cheese English Muffins on hand.  You guys, I love these.  They're less than 250 calories and pretty tasty.
Seriously, I have been grabbing these for breakfast on the go, or even as a lunch.  (Although I am a big fan of Lean Cuisines for a healthy lunch option too.)
So what about you?  Busy because it's summer?  Because of work?  Are your kids changing your schedule up for you?  Frozen. How Fresh Stays Fresh.