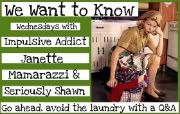 The ladies behind
Seriously Shawn
,
Dandelion Wishes,
Confessions of an Impulsive Addict
and
The Johanson Journey  
have started a series of weekly questions to answer.  I appreciate that it is on Wednesday… the day I am most likely to be up to my eyeballs in laundry and have forgotten to make dinner.
This week's questions:
1.} What is the first thing you notice about the opposite sex? Are you an eyes or a smile person? Maybe another body part?
I think mainly it's their smile.  Handsome Hubby has a great natural smile. I also love, love, LOVE his laugh.  Just thinking about it makes me smile.  On a day where I've heard him genuinely have a big belly laugh is a great day for me.
2.} If a movie was being made about you who would you like to see cast to play you? And would your movie be a comedy, drama, romantic-comedy, action film or a horror movie?
This is a tricky one.  I have gotten comparisons to Sandra Bullock and Julia Roberts, but I think it is because we all have big  hair.   I think personality wise, the best person to play me would be Kathy Bates or Annette Benning.  And of course the movie would be a swashbuckling action flick.  (Or maybe a dramatic, romantic-comedy.)
3.} Does your senior yearbook include a senior comment section? If so share what you said about your future goals. Have you met those goals? If you do not have a yearbook just share an old picture and let us know what your goals where when you were 18 and if you have met them. If you're brave enough, include your senior picture!
My yearbook did have a comment section, but I used my comments to give shout outs to my girlfriends.


This was my senior picture.  (You can see why I opted for a nose-job, yes?  My boobs are real, so shut up, shut up, shut up.) I had planned to go to San Diego State as a journalism major… but I took a very circuitous college route and wound up years later at Washington State with a public administration degree… I did speech writing and worked on policy development, so I guess that counts as journalism.   I like the writing I get to do for The V Spot and for My Favorite Hate Mail much better than writing political speeches. 
 4.} What latest trend simply baffles you? 
Skinny jeans.  But also, any pants or jeans on guys, that are pulled up to just below their butts.  They can't walk.  They look like damn penguins walking down the street!  What the heck?! 
(Want a really good laugh?  Watch one of these dorks try to run. hahahha!)
5.} When you walk into a room how do you present yourself? Do you walk in with confidence and command the attention of others or do you slink in and do your best to go unnoticed?
I haven't had to slink in anywhere since high school days when I had a curfew.  I walk into a room with confidence, but I don't know that I "command" attention.  (I'm confident enough that I don't need extra attention.)
Anyhow, go link up and meet some new bloggers.  Posts are always easier with a little writing prompt.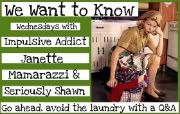 Thanks for the questions ladies!